Apple was founded in 1976 by Steve Jobs and Steve Wozniak and they had no idea that their garage-company one day would the number one technology organization worldwide. Today the company has over 115 000 full-time employees, whit a huge headquarter in California and with offices all a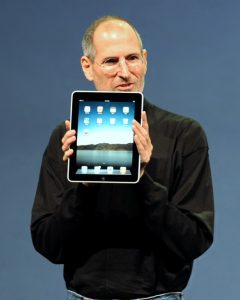 round the world.
Jobs was born in San Francisco 1955 by two graduate students, who gave him up for adoption. He was raised by his adoptive parents, Paul and Clara. Jobs loved to work with his father in the garage where they would reconstruct electronics. This was the beginning of Jobs strong interest in technology, Steve Jobs had a special way of working and many times the executives at Apple found his behavior to be harming the company.
During a period in the 80's Jobs was therefore phased out of Apple. Thus, he was later reemployed and is known for being the person who gave life to Apple and made it become the giant that it is today. Unfortunately, Jobs died in 2011 due to a long battle against pancreatic cancer.